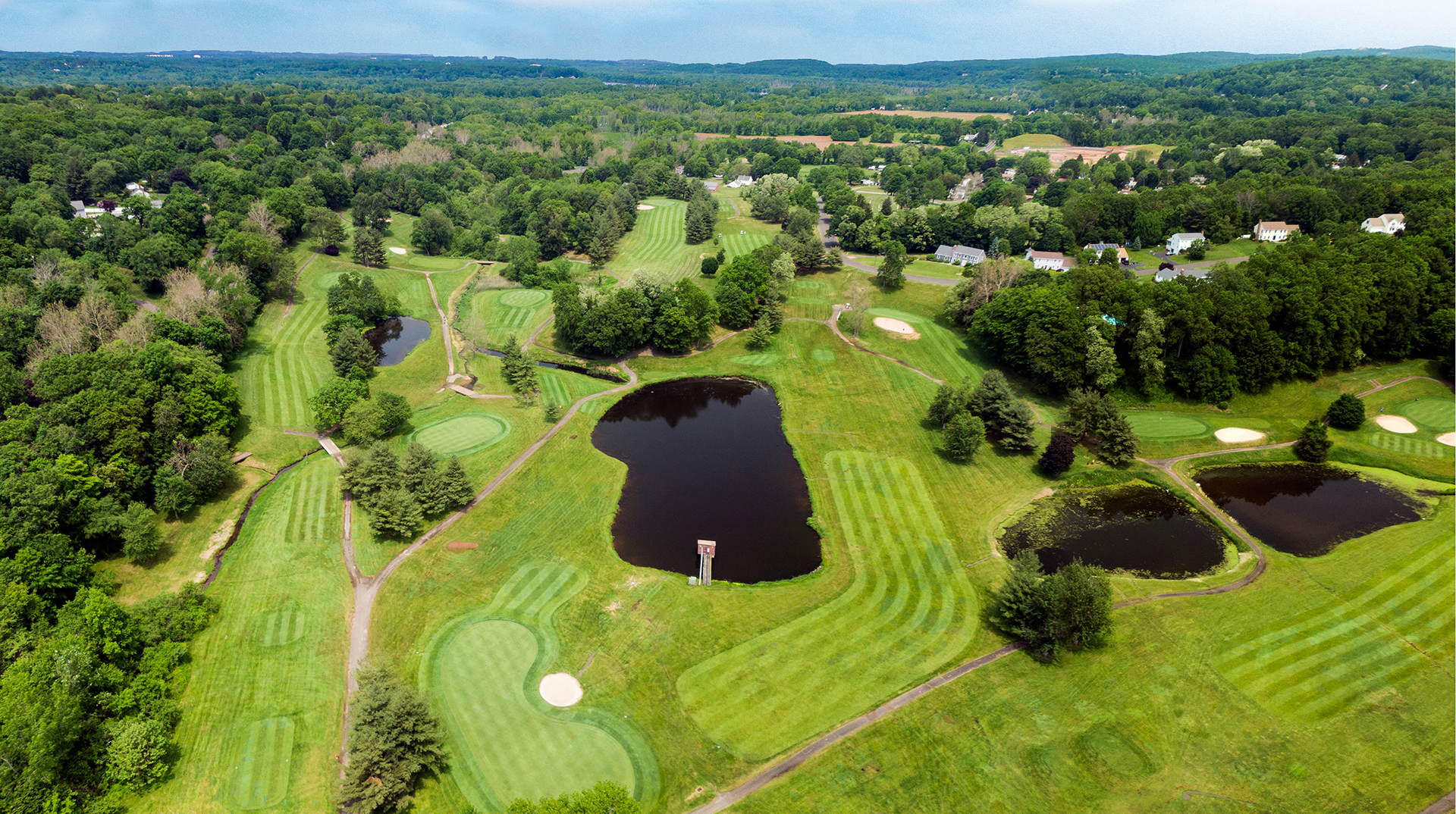 Portland West Golf Course, built in the early 1980's, opened in 1985.  Al Zikorus designed the course and was a consultant during the construction process.  Unique aspects of the course include the waterways which are all man made.  Also, the grounds are a sanctuary for waterfowl, deer, fox and other woodland animals.   Portland West Golf Course boasts of a rarity in golf course design in that there are no homes on the golf course. This enhances the feeling of serenity for those who play there.
The owners, Shawn and Kevin Kelley, both attended the University of Massachusetts in Amherst.  The Kelleys are not only the owners, but also are hands-on superintendents, overseeing and maintaining the course on a daily basis.  The Pro Shop is managed by Gerry D'Amora who is a class "A" PGA professional.  D'Amora has been with the course since its opening.
Twelve par-3's and six par-4's constitute a par 60 on this beautifully designed Zikorus layout.  There are enough elevated tees and greens along with a variety of par-3 distances to ensure a challenging round.  A trio of ponds and a series of creeks give Portland West some form of water hazard on a least half of the holes.
Yardage ranges from 3,154 from the ladies tees to 4,012 from the tips.  Head Pro Gerry D'Amora insists, "Players will be impressed with how well the course is maintained."  Pristine conditions abound throughout every inch of Portland West.  D'Amora also stresses that the shorter yardage and par of 60 should not be underestimated.  "Many players have a hard time shooting their handicaps here." D'Amora adds, "Players will be most impressed by the 366 yard par-4 sixth hole."  Position on this tee shot is vital because there are two ponds that boarder the left side of the fairway.  The approach must carry a creek as well as a pair of bunkers guarding the entrance to this green.  The putting surface is set against a tall crop of hardwoods.
The 376 yard par-4 ninth is possibly the most scenic hole on the course.  The elevated tee shot must find a slender fairway tucked between two large ponds.  The longer the drive, the less one has to flirt with carrying water on the approach.
You may have to blow the cobwebs off of your seldom used long irons or utility wood when you tackle the fourteenth and eighteenth holes at Portland West.  The finish plays every bit of its 215 yards and requires a solid shot over a pond in order to reach a large double green that also houses the ninth pin.
Tee times may be reserved in advance and carts are available.
Yards

Rating

Slope

Blue

4012

60.5

102

White

3620

N/a

100

Women's Tee

3154

N/a

N/a